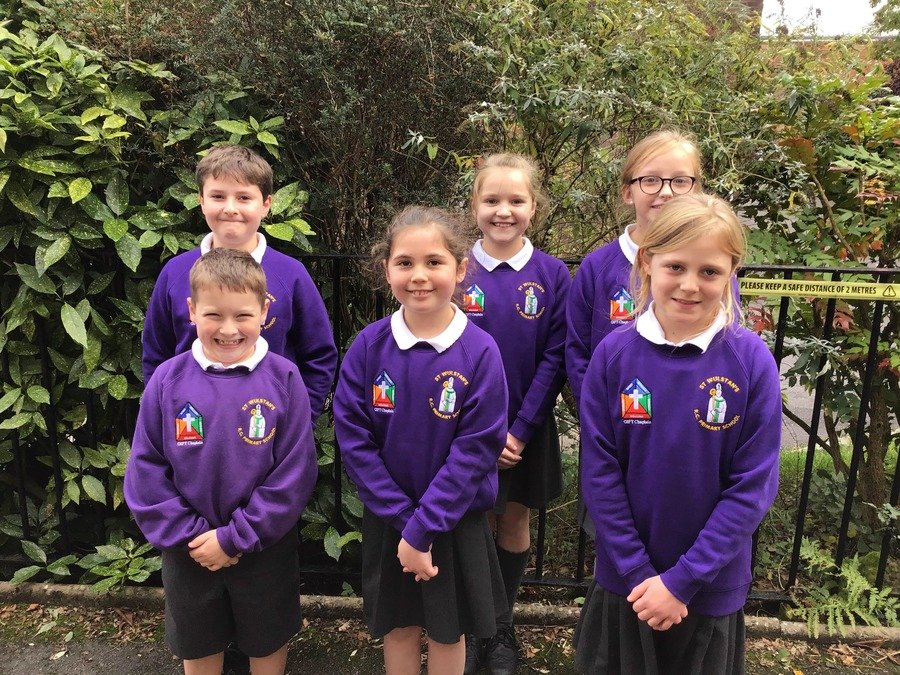 GIFT Team
Growing In Faith Together
"It is up to you, young followers of Christ, to show the world that faith brings happiness and a joy which is true, full and enduring".
Pope Benedict XVI
The job of the pupil GIFT team (Growing In Faith Together) has a very high profile in our school and we are now on our third team of Pupil Chaplains. In September 2020, application forms were written and interviews took place for our new GIFT Team and Lillie, Alisia, Olivia, Summer, Lucas and Dylan were successfully appointed. Miss Hadfield is looking forward to working with the GIFT Team giving joyful witness of Christ in our school.
As members of the GIFT Team we are called to lead our school by following in the footsteps of Jesus. Every day we live by the gospel values and show others how they can do the same. Being a member of the GIFT Team is a challenging but very rewarding task.
The Aims of the St. Wulstan's GIFT Team are:
To help the school to grow as a community of faith
To encourage the pupils to live their faith in daily living
To support Liturgy, prayer and the spiritual life of the school
To involve pupils in fundraising for charities
To continue to develop strong links with the Parish
To support the school in its Mission Statement
The Duties of the GIFT Team include:
Helping to plan and lead assemblies and Masses
Organising and leading class prayer times with other pupils
Lead before school and lunchtime prayer opportunities throughout the year e.g. Rosary, Prayer Garden, Stations of the Cross
Ensuring that class and communal prayer areas are tidy and reflect the season
Organising fund raising for charity
Supporting younger children with their spiritual development
Help to monitor and improve the Catholic life of our school
Click here for Chaplaincy Information
Click here for our GIFT Action Plan 2020 - 2021
GIFT TEAM 2020 - 2021
In the month of October, we have been thinking about people around the world and in our own communities who aren't as lucky as we are. The classes all had a special assembly with Miss Hadfield and looked at A Harvest Like No Other, from CAFOD. (https://www.youtube.com/watch?v=TXGHRP2hkMM). We have been busy collecting food for the families and community within Great Harwood and we will be distributing all the food that has been so generously donated with the help of Wendy. We could not believe how much was donated...enough to fill two shopping trolleys!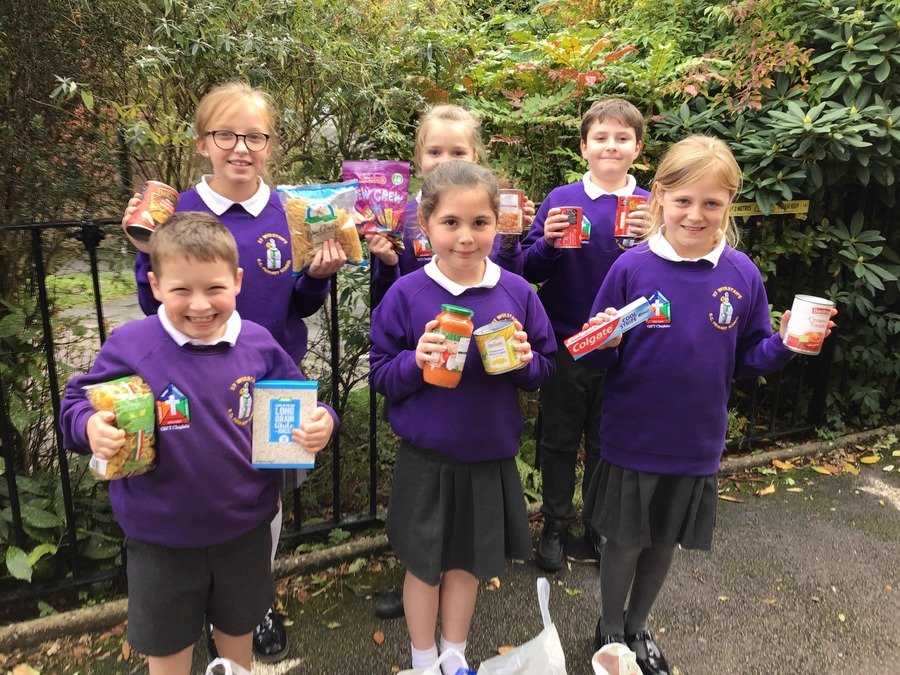 So, what did the GIFT team do last year, 2019 - 2020, before COVID-19 came along?
In November, we asked all the children to remember someone special to them who had passed away and write their own love heart of remembrance. We displayed these on the GIFT noticeboard in the Hall and remembered our loved ones in our prayers.
In December, all the children wore purple on the first Monday to remind us that Advent is the time to get ready and prepare for Jesus' coming. All children wrote their own Advent prayer which we then used to create a large whole school prayer chain with a message of 'Preparing our hearts during Advent for Christ's coming'. We also held three lunchtime groups, where we worked with children from different year groups looking at key figures in the Advent story.
In January, we served teas and coffees and cakes and biscuits to our parish family as they joined us for St. Wulstan's Day. We have also begun making Peace Poles with two children from each class...spreading God's message of peace through our school community.
In February, Father Tierney visited us one Friday morning to work alongside us. We were full of ideas after his visit. He even tweeted the school to say that the GIFT team were very active in sharing their faith with their school family and great fun to be with.' Thank you Father Tierney!