GIFT Team
Growing In Faith Together
"It is up to you, young followers of Christ, to show the world that faith brings happiness and a joy which is true, full and enduring".
Pope Benedict XVI
We are the GIFT Team. As members of the GIFT Team we are called to lead our school by following in the footsteps of Jesus. Every day we live by the gospel values and show others how they can do the same. Being a member of the GIFT Team is a challenging but very rewarding task. Here are just a few of tasks which you can find us completing at school:
lead whole school and class collective worship
participate in the annual GIFT Team retreat day
bring new ideas to teachers to make our faith 'come alive'
support younger pupils at lunch time
take a lead role in school masses
perform role plays to help other pupils to understand Bible stories
help to ensure that pupils are always showing love of Christian kind (CARITAS)
Click here for Chaplaincy Information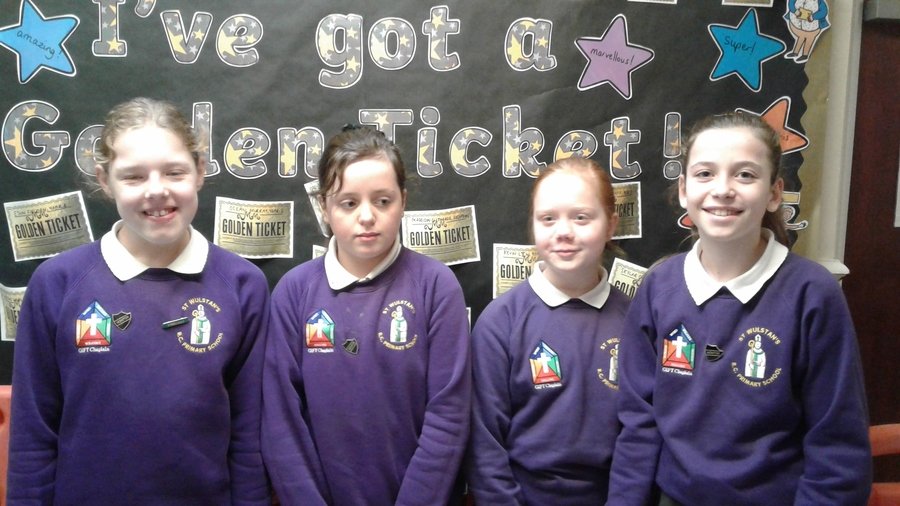 So, what have we been up to so far?
In November, we asked all the children to remember someone special to them who had passed away and write their own love heart of remembrance. We displayed these on the GIFT noticeboard in the Hall and remembered our loved ones in our prayers.
In December, all the children wore purple on the first Monday to remind us that Advent is the time to get ready and prepare for Jesus' coming. All children wrote their own Advent prayer which we then used to create a large whole school prayer chain with a message of 'Preparing our hearts during Advent for Christ's coming'. We also held three lunchtime groups, where we worked with children from different year groups looking at key figures in the Advent story.
In January, we served teas and coffees and cakes and biscuits to our parish family as they joined us for St. Wulstan's Day. We have also begun making Peace Poles with two children from each class...spreading God's message of peace through our school community.
In February, Father Tierney visited us one Friday morning to work alongside us. We were full of ideas after his visit. He even tweeted the school to say that the GIFT team were very active in sharing their faith with their school family and great fun to be with.' Thank you Father Tierney!